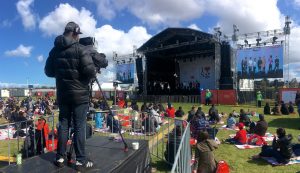 LiveVision Productions was invited to provide video coverage for acclaimed Singapore Day Festival 2017 this year which was held in Melbourne, Australia.
The day brings all the sights, sounds, smells and tastes of Singapore along with a host of famous Singaporean stage acts providing indulgence and reacquaintance of home away from home.
As a Melbourne video production company we knew the weather could be demanding for the live outdoor event, however we were luckily gifted with a wonderful day which made the event video production coverage an absolute breeze. Our Melbourne camera operators operating a professional Sony fibre-back multi-camera chain system successfully captured and recorded the event stage show in full.
Singapore Day 2017 will forever be etched in the memories of attendees for years to come, not to forget the priceless pictures that will absolutely inspire more people to attend future Singapore Day events.